Hello there, soon-to-be dorm-bound, college freshmen students! Have you started shopping for the must-have items for your college dorm yet? Don't just go for new backpacks and stationeries only, you must keep a mini fridge at the top of your list. Not being able to decide what size mini fridge for dorm will be best for you?
The standard mini fridge size recommended for college dorm is between 3.3 – 3.6 cu. ft. which also includes a freezer compartment or at least designated ice-making room. However, you can choose a mini fridge of any size between 0.5 cu. ft. to 4.5 cu. ft depending on how much space is available and how much stuff do you plan to store.
Nevertheless, we do understand how baffling it can be to decide on a size by yourself with no prior knowledge or experience, that's why we have got you covered. Now, buckle up your seat and come for a ride with us into the world of mini fridge sizes that are best for limited dorm spaces.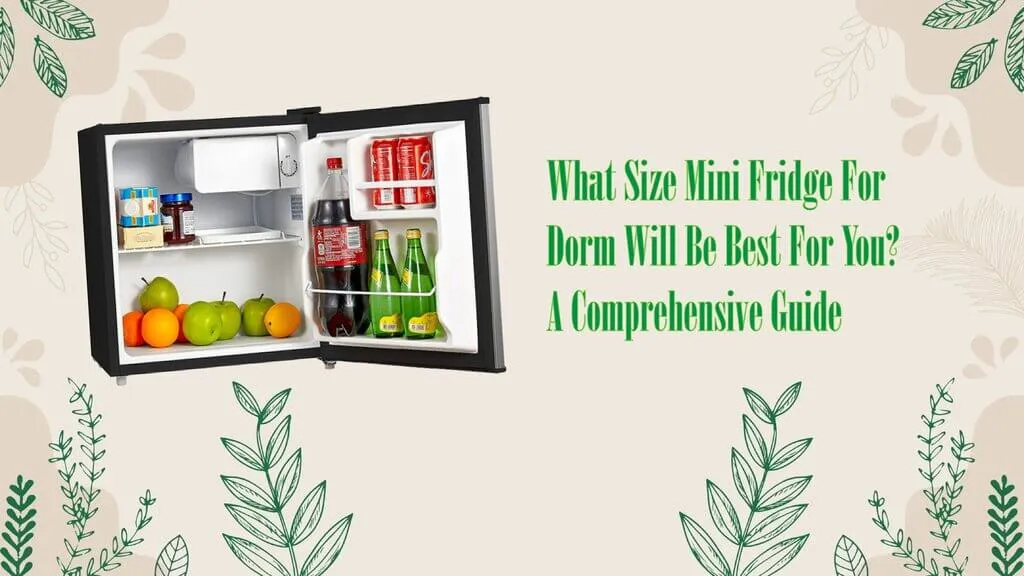 How to Determine Mini Fridge Size for a Dorm? Size Matters
Mini fridges of different brands and models are available in a variety of sizes ranging between 0.5 cubic ft. to 4.5 cubic feet. These mini fridges have an average storage capacity starting from 4 liters up to 10 liters. 
Before you can decide, what size mini fridge should you opt for, there are a couple of things you need to do first. 
Research on Specific College Rules Regarding Appliances

The first step is to talk to your college or university supervisor directly to see if your institute has any particular restrictions regarding electronic appliances. Some universities may not allow their students to bring in any electronic appliances at all whatsoever due to fire safety rules. So, you'll have to make sure of that first.
Look Up The Size & Power Consumption

Any form of student housing is supposed to inform parents and students of the maximum fridge size they can bring including what should be its maximum power consumption per day. You may also find this info on your college website. Generally, colleges allow compact electronic appliances that do not consume more than 1500 watts of energy.
Example:
Energy Use of Home Appliances Policy by The Pennsylvania State University.
Talk To Other Students

For more far-fetched knowledge, you should consult with your peers at college who already own a compact fridge and have been using it in their dorm for a long time. Their feedback will also help you decide what size mini fridge will be good for you. You will also get an overall idea on how to organize your mini fridge properly and where to position it in your dorm room. 
Select Suitable Location
Dorm rooms are very compact with limited space. Luckily, it's a good thing that mini fridges are small and compact too and can easily fit in cramped spaces. Take a look around your dorm. Choose the area where you'd like to place your mini fridge. Decide wisely if you want to
place your mini fridge on the carpet
, beside your bed-side table or under your study table.
Remember, there should be at least one to two inches of space at the back of the refrigerator from the wall for proper airflow. Also, you should leave out at least one inch of extra space on both sides of the unit for good ventilation. 
Measure Selected Area

Now that you've selected where you'd want to position your mini fridge, you should grab a retractable measuring tape and measure the area including the length and width. Make sure to include the extra inches for airflow into your calculations as well. Having a general idea of how much space is available for installing a mini fridge will allow you to buy one that will fit perfectly into your designated space.
What Size Mini Fridge For Dorm? From Mini to Mighty 
In this subsection of our article, we are going to discuss different size options and also recommend some of the best mini fridges for dorms that are within student budget.
Disclaimer: As an Amazon Associates partner, we may earn a commission from qualifying purchases made through the links provided on this web page.
0.5 – 1 Cubic Feet Mini Fridges
If your goal is to only store your meds in a cold temperature or keep condiments such as butter, jam, cheese etc and perhaps one or two soda cans occasionally – you can go for the Cooluli Vibe 0.5 Cu. ft. Mini Fridge. It's extremely compact, low power-consuming,  budget-friendly, won't take up much space, you can place it on any corner of your study table. 
1.5 – 1.8 Cubic Feet Mini Fridges
Don't know what a cube fridge is? It's a small mini fridge but mighty when it comes to storage capacity. It typically consists of a single interior shelf and in-door pockets for keeping some eggs, bottles and cans. 
If you're planning to refrigerate just the absolute necessities, you can go for the Honeywell 1.6 Cu. Ft. Compact Refrigerator which also includes a tiny freezer compartment measuring 0.2 cubic feet. This compact mini refrigerator is very affordable in price and allows its users to adjust the temperature settings to their liking.
2.5 – 3 Cubic Feet Mini Fridges
We have seen many college students going for the Frestec 3.0 Cu.Ft. Mini Fridge which is a decent mid-size fridge model and has a decent freezer compartment size of 0.9 cu.ft along with a  2.1 Cubic Feet refrigerator capacity. This size fridge would provide enough room for one person. You can easily store your leftover snacks, rice, curry and pasta including fresh fruits, veggies and juice bottles.
3.3 – 3.6 Cubic Feet Mini Fridges
Our team experts consider this the ideal size range for best dorm mini fridges. You will find plenty of mini fridge models within this size range that offer adjustable shelves, drawers and may also come with separate freezer space. 
If you're into vintage designs, you can check out our review of the Galanz 3.3 retro compact refrigerator which is designed with vintage retro vibes and  provides enough room for two people. The only downside with this is that it doesn't have a freezer included.
4 – 4.5 Cubic Feet Mini Fridges
Gosh, you're so lucky! Not everyone's that privileged to get a dorm that allows for a fridge this large! Well, to take full advantage of the opportunity and make good use of this ample storage space, you should definitely check out the Upstreman 4.5 Cu.Ft Mini Fridge which even features a small freezer compartment. You can store raw meat and fish or simply keep ice cream frozen here.
We would recommend getting this mini fridge especially if you have 2+ people sharing one dorm room.
Factors to Consider When Selecting a Mini Fridge for Dorm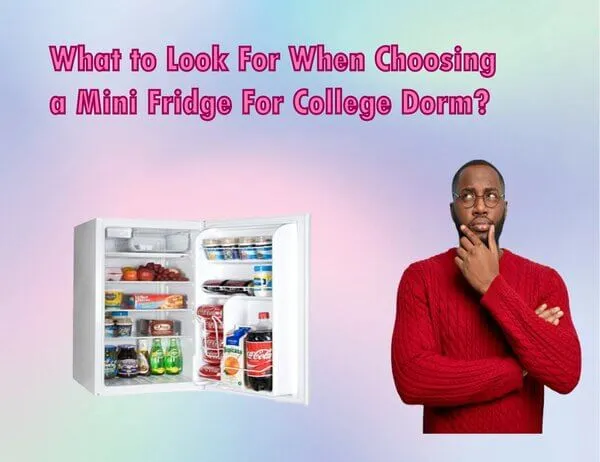 After you've figured out the right size mini fridge you'll be shopping for, there are a couple more things to keep in mind before making the ultimate decision. 
Decide Whether or Not You'd Like a Freezer

Generally, mini fridges come one of these three ways — freezerless, an upper freezer or chilling compartment included in the main fridge area, or a separate freezer on a two-door fridge. If you wish to keep frozen meals or tubs of ice cream, then you might want to opt for a
mini fridge with freezer
. Otherwise, a tiny freezer compartment should suit you fine.
Fridge Door Design

Next up, another important feature you'll want to look for in your mini fridge is reversible door hinges. Why, though? You will be able to switch the way the door opens, which is a cool feature if you haven't visited your dorm yet and aren't sure exactly how your dorm will be laid out.

But bear in mind – mini fridges with a reversible door will cost more money than ordinary ones. If you have a limited budget, what you can do is buy a single-door model and then change your mini fridge door into reversible style.
Decent Storage Space

When choosing a mini fridge, make sure it has got adjustable shelves and drawers so that you can keep different categories of food separated from each other. A good mini fridge will have room for egg trays on the fridge door and space for keeping at least 2-3 bottles and cans.
Why Do You Need a Mini Fridge in a College Dorm?
You could be wondering why you would even need a private mini fridge at your dorm even though you'll have access to the 'community fridge' that all the students on the same floor as you will use on a shared-basis. Well, don't be fooled. The concept of a shared community fridge is too good to be nothing but an illusion. Why? 
Poor Hygiene: These fridges tend to be nasty as people will store their leftover foods inside for weeks until they eventually start to rot or molding up. You don't want to keep your food in a fridge that is susceptible to bacteria infestation.
Sickness: On top of that, college authorities really pay zero to minimal heed when it comes to keeping those community fridges neat and clean. If you store your food and drinks in such a germ cesspool, no doubt you'll get sick of food poisoning. It's just not worth it.
Your Stuff Vanishing: If you plan to use the community fridge, don't be surprised if you don't find your leftover piece of cake an hour later. Yes, people steal, that's the harsh truth. There's nothing more frustrating than buying a bunch of food and drinks only to have someone else steal them and you can't really do anything about it other than feeling helpless, miserable and starved.
Therefore, the importance of having your own little mini fridge near your bedside table can't be stressed enough. It's a necessity no college-going students should ignore.
Frequently Asked Questions
What Size Mini Fridge Is Allowed in a Dorm?
Based on our observations  in the last couple of years, college authorities usually don't object to their students moving in a mini fridge with them as long as it's not larger than 3.3 cu. ft and also energy-efficient when it comes to energy consumption.
 What is the Standard Size of a Typical Mini Refrigerator?
On average, mini fridges measure between 30 to 35 inches in height, 18 to 24 inches in width, and have a depth of around 19 to 26 inches.
How Do You Hide a Mini Fridge in a Dorm?
Trying to be sneaky, eh? Sure, first things first, cover the sides, top and front panel of your mini dorm fridge with cardboard. Next, grab double-sided sticky tape or a hot-glue gun for adhesive. Now, place the fridge in between several other big-sized boxes. It will blend right in and camouflage itself.
Wrapping Up
Having a mini fridge in your dorm is really a blessing in disguise. You will naturally feel over the moon knowing that your fridge is always clean and safe and secured from food thieves. You don't have to walk all the way down to the hall just to grab a bite of a snack or take a sip of chilled water.
In order to decide on the right mini fridge size suitable for your dorm, you need to first decide what contents are you looking forward to store in the fridge, what features you'd want to see in your mini fridge, the amount of space available in your dorm and also figure out how much budget you can afford. After that you can search for mini fridge models according to the above criteria.