Agree or not – the first thought that pops up in our mind when we're roaming inside a refrigerator showroom about to buy a new refrigerator for our home is – whether or not it will fit inside our kitchen!
Knowing how to measure the dimensions of a refrigerator accurately will not only reduce the hassles when replacing your old refrigerator with a new one but also help you decide whether it fits your needs and allow its installation process to be smooth and trouble-free.
Now you may wonder, how to measure refrigerator size? Well, that's what we're going to teach you to do in this article so make sure to read till the end.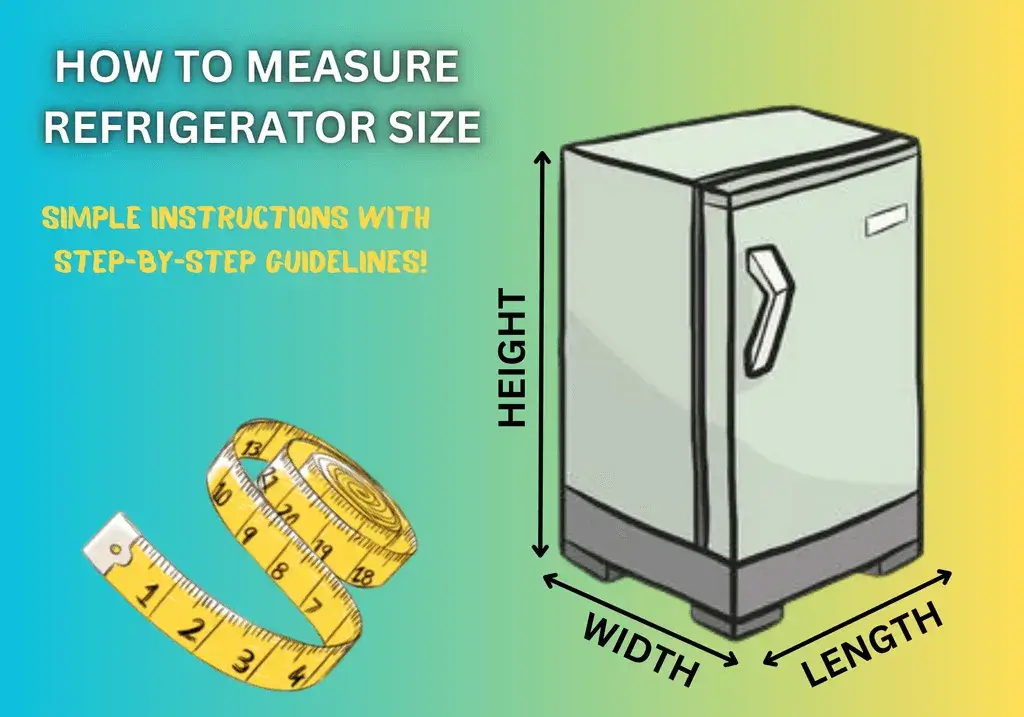 What Are Standard Refrigerator Sizes?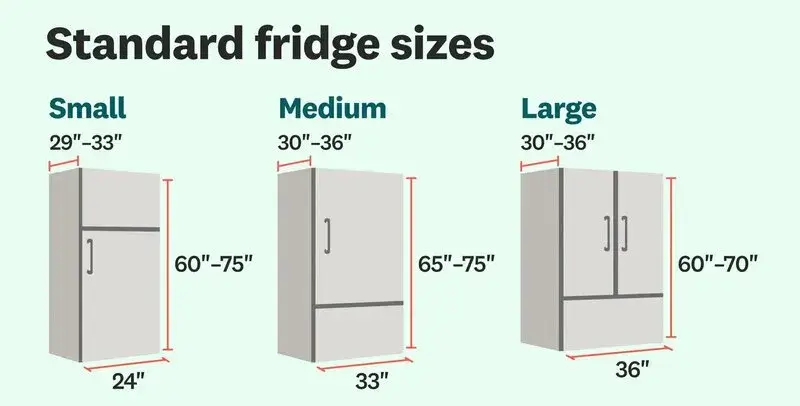 Although standard sizes vary depending on the type and style of different refrigerators of various brands, the common refrigerators seen in average households tend to be over 60 inches tall and about 24-38 inches wide. 
We have done extensive research for you and compiled a rough estimate of the standard size measures of the different refrigerator styles found today:
Compact Refrigerators
Compact fridges are known for their slim build and ability to fit inside small cramped spaces. Ranging between 11-13 cubic feet, they tend to be 60-75 inches tall and 24″ wide – an option perfect for small kitchen spaces in small households.
Mini Refrigerators
Most portable mini refrigerators of some of the best brands today are at least 30 inches tall (height can go up to 36 inches depending on the model) with a depth of 20-25 inches and a width of around 18-24 inches.
Side-by-side Refrigerators
These refrigerators feature a standard capacity of up to 28 cu. ft. with an in-depth measure of 35-39 inches when closed and up to 45 inches when the door is wide open. Side-by-side refrigerators are meant to be installed in larger spaces since they have an average height of 65-75 inches and a width of 32-40 inches.
Undercounter Refrigerators
Undercounter refrigerators are a stylish addition for your sleek kitchen with a decent storage capacity of 5+ cubic feet. These refrigerators give off a cabinetry feel to your kitchen and tend to be around 32-36 inches tall and 20-25 inches wide with a maximum depth of 26 inches.
French Door Refrigerators 
Based on what we have seen in average to large households, most full-size French door refrigerators in high demand are generally 30-36 inches wide and 69-72 inches tall with an average storage capacity ranging between 20-26 cubic feet.
Wine Fridges
Compact wine fridges of some of the popular brands such as LG and Whirlpool have a typical storage capacity of 100+ cans and bottles. With an average height of 10″ to 20″ and ranging from 24″ to 28″ in width, they do a pretty good job in keeping your beverages cool and chilled. 
Counter-Depth Refrigerators
Most counter-depth refrigerators have a standard depth size of about 25-30 inches, with a typical storage capacity ranging between 15-25 cubic feet. The standard width of these refrigerators revolves around 30-36 inches with an average height of 66-72 inches.
How to Measure Cubic Feet of a Refrigerator?
In order to figure out the volume of your refrigerator (which is measured in cubic feet), you will need 3 pieces of information at first – the length, width and height of the internal refrigerator space. 
Before you can start measuring, you'll need to first unplug your refrigerator and temporarily move out all the foods and beverages stored in the shelves and drawers. Once you've cleared out the storage space, you can use a tape measure to start measuring how tall, wide and deep your refrigerator is.
But make sure you measure the length, width and height all in the same unit (such as 'feet'). If one is measured in cm and the other in inches, you'll be left with an inaccurate measurement at the end. 
Moving on, once you've all the measurements available, you need to multiply the three numbers together to find the volume in cubic feet. 
For instance: Length 5.6 ft x Width 2.0 ft x Height 2.5 ft = Volume 28 ft³ 
Nevertheless, if you're too busy to manually measure a refrigerator just to know the volume of your appliance, here's a lazy hack – simply look for a label or sticker on the refrigerator with the model number mentioned, google it up or visit the manufacturer's website, you'll find all your desired information in the blink of an eye.
Some latest high-end refrigerator models may also feature a QR code on the exterior. Once scanned with a device, information such as the dimensions, storage capacity etc. can be easily availed. 
How to Calculate the Volume of a Refrigerator in Liters?
The process remains pretty much the same as before, just that instead of measuring the length, width and height in feet, you measure them in metres and then multiply them together to find the volume in cubic metres (m³). 
For the final step, you need to multiply the final value of all the refrigerator measurements in cubic metres ×1000 to get the volume in liters. Here's an example for you:
Length 1.5 m  x Width 0.7 m x Height 0.8 m = Volume 0.84 m³
Now, as for the final step: 0.84 m³ x 1000 = 840 litres. (Volume)
The Do's and Don'ts When Taking Measurements of Refrigerator
You want the measurements of your refrigerator dimensions to be accurate and correct. One wrong step can ruin all the results. Therefore, we have pinned down these guidelines for you to keep in mind before you begin measuring: 
The Do's 
To measure the height of your refrigerator, you should have some extra hands nearby, perhaps a second person who is taller than you. While the taller person firmly holds the retractable measuring tape at the edge of the top space, the other person can pull down the tape to the very bottom of the refrigerator and note down the measurement.
Make sure to take everything out: the shelves, drawers and everything. You may measure them separately for understanding the overall depth of your refrigerator. 
You may want to move the refrigerator in a larger space if it's standing in a cramped area with no space to move around while measuring.
The Don'ts 
Some people lay the refrigerator flat on the floor on its side to take measurements which can be detrimental and absolutely not recommended. 
Don't forget to correctly unplug and switch off your refrigerator from its power source before you start measuring.
Final Thoughts
We hope now you're clear on how to measure refrigerator size for different purposes. If you're confused with the measurement units of your appliance, you can also take help of any unit converters online to do the conversion math for you. Now that you have read our instructions, you can confidently grab a measuring tape and begin the calculations. Happy measuring!
Frequently Asked Questions
What Is The Most Popular Refrigerator Size?
The most common refrigerator sizes bought by consumers all across the world have a typical width range of 28-36 inches and an average height of 66+ inches, often including a freezer compartment on top or the bottom.
How Far Should a Fridge Stick Out Past the Counter?
Although the numbers vary depending on the size and dimensions of a particular fridge, however we should expect a regular-sized refrigerator to stick out at least by 5-6 inches past the edge of the counter.
Will a 36″ Refrigerator Fit in a 36″ Opening?
Some 36″ refrigerators may end up fiting in, but the bitter truth is that, most of them will not since they'd be requiring an opening space of at least 37-38″ depending on the type of the refrigerator. Nevertheless, there's a way through which you can be know whether the refrigerator you bought will fit in a particular area or not. In case of most refrigerator models, specifications regarding the installation dimensions are included in their respective user manual guides provided by the manufacturer.