Are you a vintage lover like us who just loves decorating his house with all the retro house decors with old classic vibes? Well, in that case, we've just the thing for you to make your heart swoon. If you still haven't checked out this 3.3 Cu. Ft. compact refrigerator from Galanz, you're totally missing out. Look wise, this refrigerator has got the retro charm of the good old vintage days, not to mention its premium build and modern tech-friendly features, making it a stunning addition for your home sweet home.
Keep reading to find more about the Galanz Compact Refrigerator – its features, advantages, limitations and more importantly – whether its retro charisma is really worth your hard-earned money.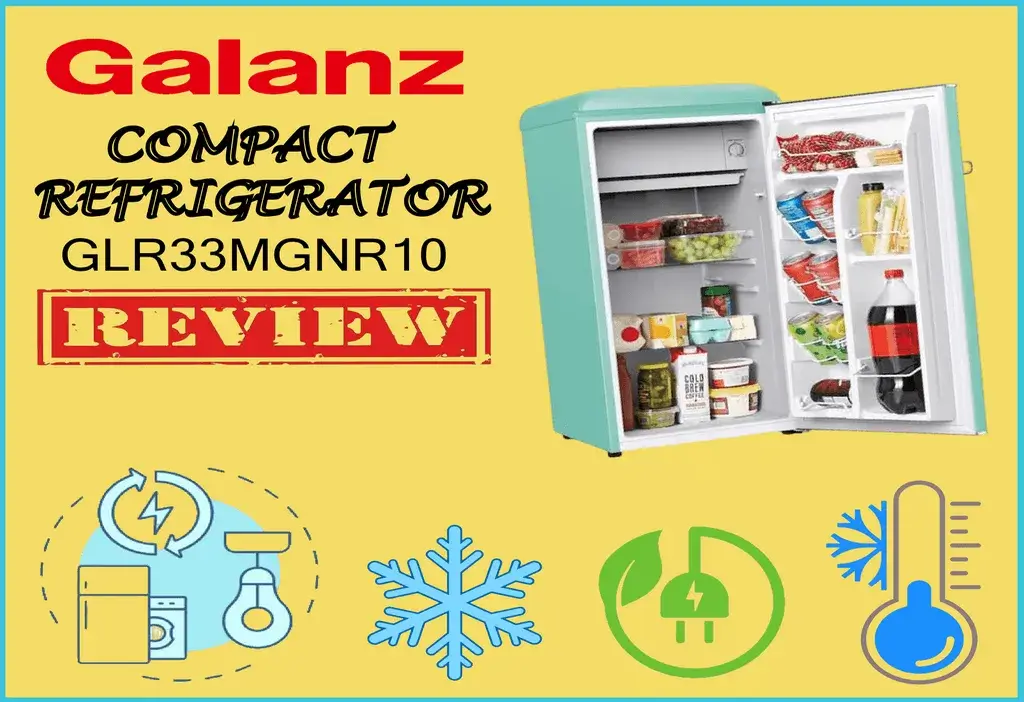 Galanz GLR33MGNR10 Key Specifications 
Product Dimensions (D×W×H): 17.6″ x 21.02″ x 35.4″
Model number: GLR33MGNR10
Capacity: 3.3 cubic feet
Item Weight: 46.3 pounds
Color: Retro Green
Configuration: Freezerless
Energy Star: CSA DOE
Refrigerant: R600a
Annual Energy Consumption: 218 kWh
Voltage: 120 volts
Installation type: Freestanding
What's Included in the Package?
After opening the packaging of your newly-purchased Galanz Retro Compact Refrigerator, you can expect to find these materials inside:
1× Galanz Refrigerator
1× Power Cord
2× Glass Shelves
1× Crisper Glass Cover
Galanz GLR33MGNR10 Refrigerator Design and Features
Based on what we have observed so far, this Galanz Single Door Compact refrigerator is the first choice of small families with limited kitchen space. Because this appliance is about 35 inches in height with a width of about 21 inches, it can easily fit into really cramped spaces, making it a perfect companion to have in your office or small kitchen. 
Galanz GLR33MGNR10 Retro Compact Refrigerator, Single Door Fridge, Adjustable Mechanical Thermostat with Chiller, Green, 3.3 Cu Ft
ENERGY SAVING & QUIET – Using a high efficiency, low energy consumption compressor, the compact fridge cools foods quickly with a low running noise
REMOVABLE SHELVES - The 2 glass shelves are removable for easy cleaning! Simply slide out from the refrigerator and wipe clean! They also help organize and separate the different foods, so they remain fresh
ADJUSTABLE THERMOSTAT - Simply turn the knob to adjust the temperature inside the compact refrigerator; Refrigerator temperature ranges from 32ᵒ F to 47ᵒ F & the chiller compartment ranges from 27ᵒ F to 37ᵒ F
RETRO LOOK - Vintage and retro look will accentuate any space! Mix and match with the other retro appliances from Galanz like the microwaves, toaster ovens, and other appliance pieces
IDEAL FOR SMALL SPACES – Measuring 17.6" W x 35.43" H x 21.02" D with a chiller compartment capacity of .39 cu ft and a refrigerator capacity of 2.84 cu ft (Total 3.3 cu ft), the mini fridge is perfect for compact apartments and studios, bedrooms, offices, and other small spaces
Disclaimer: As an Amazon Associates partner, we may earn a commission from qualifying purchases made through the links provided on this web page.
Apart from its ideal compact size, the refrigerator offers several other facilities for its consumer to enjoy. Here's a list of all the features that won our hearts: 
1. Full Control Over Temperature
The Galanz Compact Refrigerator is divided into two compartments – one is the 'refrigerator' and the other is labeled as 'chiller'. 
With the help of the adjustable thermostat, you can regulate the internal temperature of both of these compartments based on the contents you're storing inside however you like and whenever you want. 
Furthermore, the thermostat is also located in an easily-reachable location to save you the hassles. Just open your fridge, you'll find the thermostat regulator on the left-hand corner side at the very top front. Turn the knob either left or right to select your desired temperature.
2. Plenty of Space Inside
This refrigerator model has an overall storage capacity of 3.3 cubic feet and an overall depth of 17.6 inches – which also means it has a volume of about 93-94 liters. This is way more spacious and deeper than the typical mini fridges of some of the leading brands today such as LG or Whirlpool. 
Because it's incredibly spacious, you can store snacks, beverages, fruits, eggs, vegetables and so much more – making this refrigerator a perfect choice for your home office.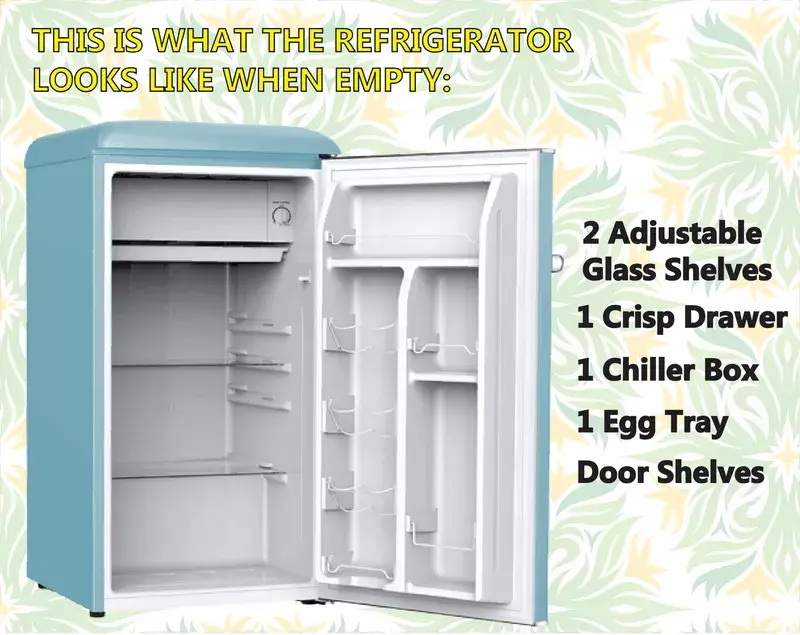 3. Exclusive Temperature Settings
We highlighted before how you can fully control the adjustable mechanical thermostat and monitor the temperature inside, now let's discuss the wide range of temperature settings available to choose from.
For the refrigerator compartment, you can select any temperature setting between 32°F – 47°F (0°C – 8.3°C). 
For the chiller compartment, the temperature can be set at a minimum of 27°F (-2.78°C) and a maximum of 37°F (2.7°C)
4. Separate Compartments for Foods and Beverages
Who likes a messy and disorganized refrigerator? That's right, no one. In the Galanz Retro Compact refrigerator, there are separate compartments divided by removable glass shelves and crisp drawers – where you can place fresh fruits, veggies, snacks and delicacies. 
On the refrigerator door, you've ample space for storing liquids and beverages in the form of cans and bottles. This way, not only does your refrigerator look organized and chic every time you peek inside, the cold air circulates properly and evenly throughout the space.
5. Robust Build and Stylish Design
If you're going to spend a good deal of money on a fridge, just looking at its features ain't enough. You should invest in a fridge that glamourizes the overall aura of your kitchen – glamorous enough to make your neighbors feel jealous. 
This Galanz Single Door refrigerator undoubtedly ticks all the boxes for stunning vintage visuals because of its retro design and eye-catching surf green color. The door handle also reflects retro vibes along with its robust build. 
6. Energy Efficiency 
It has a good energy star rank which allows the appliance to save energy while it functions. Most consumers we have interviewed have all confirmed that this refrigerator performs with high energy efficiency and because of the compressor's low power consumption, you're safe from having chilling nightmares of insane electricity bills at the end of the month. 
7. Easy Hassle-free Clean-up
We must keep our refrigerator clean and tidy from mold and germs on a regular basis otherwise it'll look like a haunted house from the conjuring movie when you open the fridge. But taking out everything from the fridge and then wiping is a real hassle, isn't it? Hence, to make this process convenient for us, the refrigerator includes removable drawers and glass shelves that can be easily slid out when you're wiping and cleaning, thus saving some time and effort.
Our Experience With Galanz GLR33MGNR10 Refrigerator
We tested this product ourselves and have been using this refrigerator for over weeks now, here's how the whole experience went from its unboxing till now:
The refrigerator came in a sturdy well-packaged box surrounded with plenty of Styrofoam and newspapers inside to protect the refrigerator from getting damaged. The edges of the metal frame were taped in multiple layers which was very thoughtful. The user's manual says to rest the refrigerator for about 4 hours before turning it on, so we did accordingly. After finally plugging in, we thought it would take a long while to get cold but to our surprise, the exterior felt cold to the touch within 5-6 minutes.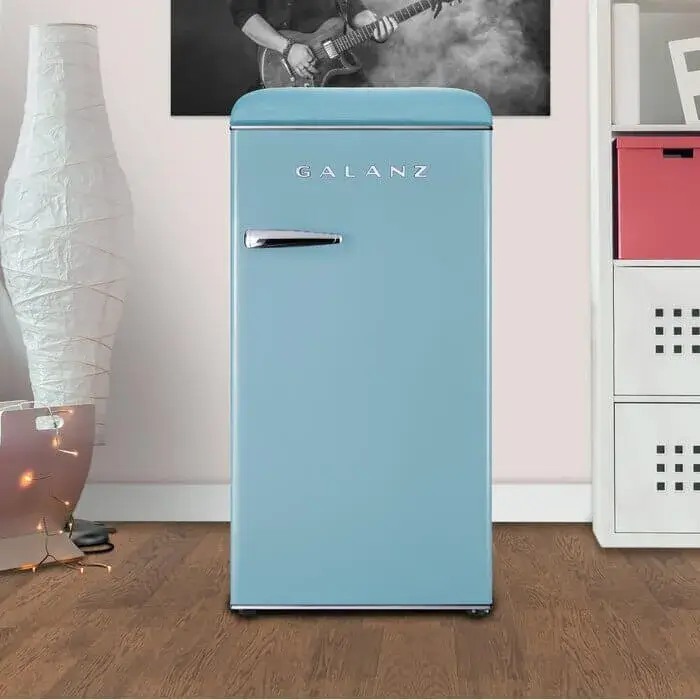 It's hard to believe how much you can store inside. It's almost like a black hole. We could easily fit in a dozen soda cans on the refrigerator door along with some juice and milk bottles. Although there's no doubt that the refrigerator does a commendable job at keeping beers and snacks cold, it's definitely not suitable for storing any sort of raw meat or fish. 
After running it for a few days, what we figured out is that this small fridge works best with the default temperature setting of '4'. So far, we have experienced no leaks or frost build up whatsoever. The door shelves are extremely sturdy and of up-to-the-mark quality.
Another plus point we have noticed is that the compressor doesn't make much noise while running. It does make a humming sound when switching it on, but stays quiet most of the time.
Galanz GLR33MGNR10 Refrigerator Drawbacks
We have listed down some of the minor issues that we discovered while using this single door fridge that you may not like later on and should be aware of before purchasing.
No LED Lights/Screens Inside
Not that it really matters much but we thought the interior lights of the refrigerator could use some improvements – as in more brighter lights and of better quality. 
Non-adjustable Glass Shelves
When you're cleaning up, you can slide out and remove the shelves which is good, but you can't really raise or lower the glass shelves or adjust them up or down.
While doing some clean-up at the back of the refrigerator, we realized that the drip tray over the motor that collects water and food crumbs is non-removable, meaning – you can't take it out and then put it back in. This makes it slightly inconvenient while cleaning.
Final Verdict On Galanz GLR33MGNR10
Considering all the amazing features and the vintage retro style of the Galanz GLR33MGNR10 Retro Compact Refrigerator and also some of its drawbacks, we strongly believe that this appliance is overall worth the investment. In fact, it's a win-win situation if you're looking for a perfect-size fridge for your garage, small kitchen, game room, home theater, wet bar or home studio.
Awesome
The
Galanz GLR33MGNR10 Retro Compact Refrigerator
deserves a score of 8.5 because of its unique retro design with a modern appeal that makes it stand out from all other small fridge models out there. Not to mention its energy saving skills that make your pockets smile and prevent you from paying high electricity bills. We are in awe of its tech-features including the adjustable mechanical thermostat and the sufficient storage capacity it offers. Overall, this Galanz compact refrigerator is a great value for money and worth the investment.
Frequently Asked Questions
Is the exterior of Galanz GLR33MGNR10 compact retro refrigerator metal?
The exterior of the Galanz retro compact refrigerator is constructed with durable and painted metal except for the handles though. Also, no plastic has been used to design the exterior. 
Is the chiller in Galanz GLR33MGNR10 refrigerator the same as a freezer? 
The chiller on the Galanz 3.3 cu ft. Retro refrigerator won't get as cold as a standard freezer. However it does keep the temperature cold enough for keeping ice packs and yogurt chilled. If you put in ice cream, it will stay chilled and sort of runny but never solid frozen. Our advice would be not to put anything in the chiller that needs to stay below 20 degrees. 
Is this Galanz GLR33MGNR10 refrigerator DC powered?
No, it's not. This refrigerator requires AC power of 120 V, 60Hz and 0.8A for functioning.
What are the dimensions of the glass shelves in this Galanz GLR33MGNR10 refrigerator? 
(Width × Height) 10.35 inches x 14.45 inches