Has your pristine white refrigerator door lost its luster due to unsightly rust spots? Fear not! Rust is not a death sentence for your fridge. With some simple DIY steps, you can make your fridge look as good as new. This article will guide you on how to remove rust from white refrigerator door.
Create a paste using equal portions of white vinegar and baking soda. Apply this paste to rust spots and leave it for 10-15 minutes. Then rinse and repeat the process until the rust is gone. Once the rust is removed, dry the surface and apply a protective car wax finish to prevent future rust.
Removing rust from your white refrigerator door does not require any professional intervention. In fact, it's fairly easy to reclaim your refrigerator's original splendor with a few household items and a bit of elbow grease.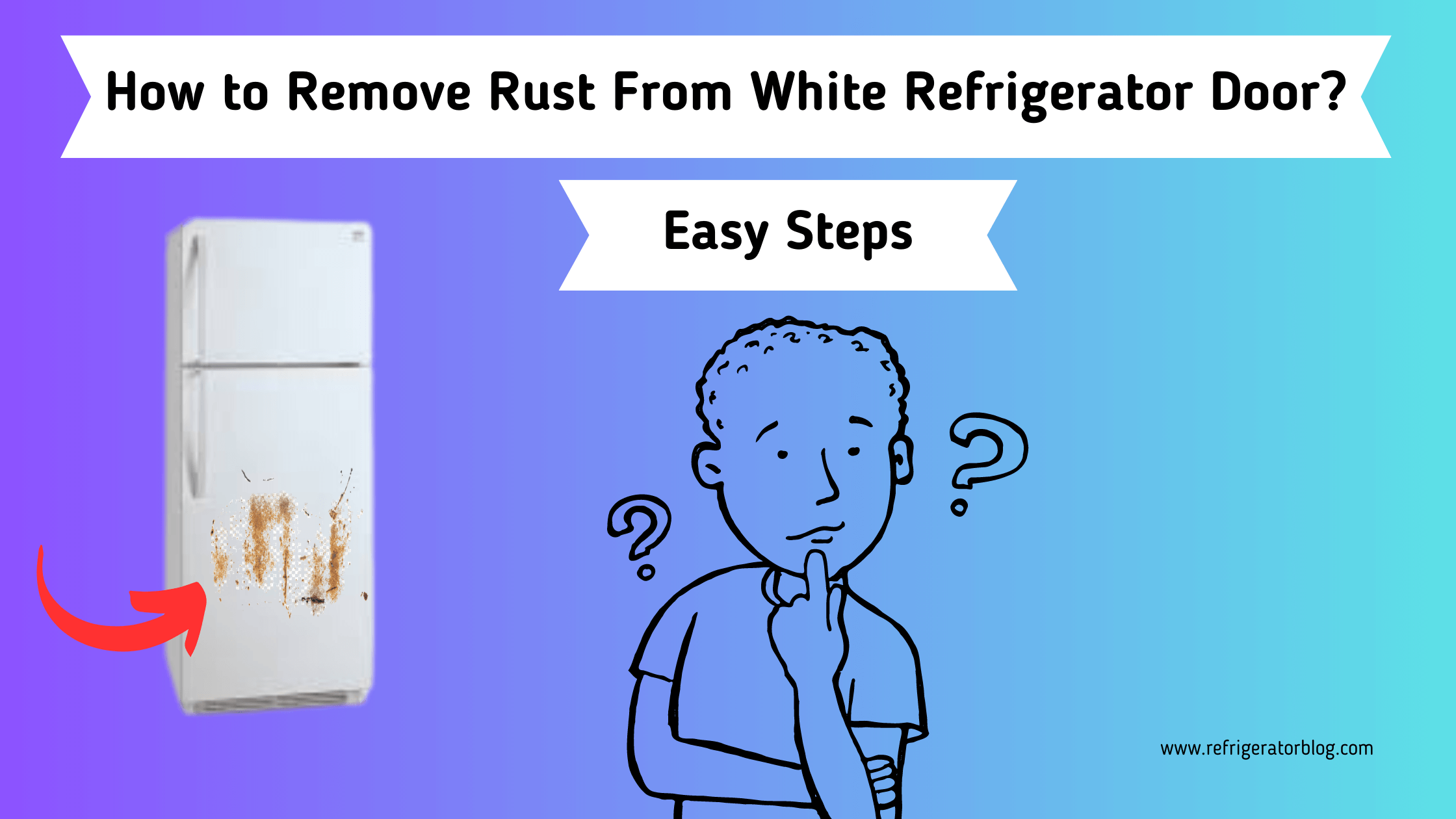 Understanding the Causes of Rust on Refrigerator Doors
Before we plunge into the nitty-gritty of rust removal from a white refrigerator door, it's crucial to comprehend what rust is and why it's showing up on your fridge. Rust is a reddish-brown substance that appears when iron or an iron alloy such as steel, encounters oxygen and moisture over extended periods. 
Why Is My White Fridge Rusting?
Contrary to its gleaming surface, a white fridge is constructed of metal that is susceptible to rust. It's shielded with a protective coat of paint, but sometimes, this defense isn't enough. Here's a look at the main culprits behind your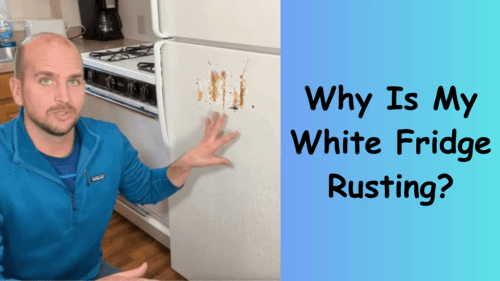 Scratches or Dents:
These imperfections can compromise the protective layer, allowing the underlying metal to come into contact with oxygen and
moisture
, thus triggering rust formation.
High Humidity: If your fridge is situated in a damp location, it's more prone to rust, due to the interaction of water and air.
Inadequate Quality Coating: At times, the coating used on your fridge may not be robust enough to ward off rusting.
How to Remove Rust From White Refrigerator Door? Step-By-Step Guide
Ever swung open your refrigerator door only to be met with the unsightly sight of rust patches? If your white fridge door is speckled with rust, don't fret! This is not a catastrophe. You're in luck because there's a solution to your problem.  
Materials Needed to Remove Rust from a White Refrigerator Door
Rust on your refrigerator door can be disappointing, but it's easy to fix. You just need some common household items to restore your fridge. Here's what you'll need:
Baking Soda: A mild abrasive that removes rust without damaging your fridge's surface.
White Vinegar: Its acidity makes it effective for rust removal.
A Soft Cloth or Sponge: For applying the cleaning mixture and scrubbing the rust without scratching the surface.
Warm Water: To rinse off the cleaning solution.
Protective Gloves: To protect your hands during cleaning.
A toothbrush:  for those stubborn spots.
If rust is severe and these items aren't enough, a commercial rust remover might help. Always follow the instructions and safety measures with such products. With all the necessary materials, you're ready to remove that rust. 
How to Remove Rust From White Refrigerator Door?
Let's walk you through a simple guide on how to erase those rust stains from your white refrigerator door:
Alright, you've got your tools. Now, let's get that rust-removing potion ready. Combine equal parts of white vinegar and baking soda to create a paste. This paste is going to be your secret weapon against that rust.

Why, you ask? Well, vinegar is acidic, which makes it perfect for dissolving rust, while baking soda is gently abrasive, aiding in scrubbing away the dislodged rust particles. 
Now it's time to smear that paste on the rust spots on your refrigerator door. Use your cloth or sponge to spread the paste, ensuring every rust spot is well covered. If you come across a stubborn rust spot, use your toothbrush to softly scrub the paste into the rust.
After you've spread the paste, let it sit for about 10-15 minutes. This pause allows the solution to seep into the rust and loosen its grip on the refrigerator door. 
Once the paste has had its time, wash it off with warm water. If the rust spots are still there, don't stress. You might need to repeat the application and waiting process a few more times until all the rust is gone. Remember, patience and persistence are key here! 
After you've successfully banished the rust, dry the area thoroughly with a clean, dry cloth. To ward off future rust, think about applying a thin layer of car wax to the door. This forms a protective shield that can keep rust away. 

Keep in mind, rust doesn't mean your refrigerator is beyond repair. With a bit of effort and patience, you can bring your white refrigerator door back to its pristine state. Enjoy your cleaning journey!
Preventing Rust on Your White Refrigerator Door
Ever wondered how to prevent rust on your white fridge? Here are some easy steps for maintenance and prevention.
Cleaning: Regular cleaning helps prevent rust. Wipe down your fridge once a week with a damp cloth and mild soap to remove dirt and grime that could cause scratches and rust.
Proper Usage: Avoid slamming the fridge door. This can chip the paint, exposing the metal and leading to rust. Handle your fridge gently. 
Fix Scratches Immediately: Repair any scratches right away. Use white appliance touch-up paint to cover them before they rust. 
Location: The fridge's environment can contribute to rusting. High humidity and water exposure speed up rusting. Place your fridge in a low-humidity area, away from water sources.

Regular cleaning, careful handling, immediate scratch repair, and correct fridge placement can help prevent rust on your white fridge. Maintain well!
Frequently Asked Questions
Got a few questions spinning in your head about how to remove rust from your white refrigerator door? Well, you're in the right place! Let's dive right into some of the most frequently asked questions about this topic. 
Is It Safe to Use Baking Soda to Remove Rust From a White Refrigerator Door?
Definitely! Baking soda is a safe, natural and effective rust remover. It's mildly abrasive which helps to scrub off the rust without scratching your fridge's surface. Simply mix it with water to create a paste, apply to the rusted area, and gently scrub. Just remember to wipe the area clean after treatment.
Can Lemon Juice Be Used to Remove Rust Stains From a White Refrigerator Door?
Lemon juice is an affordable and easy method to remove rust stains from a white refrigerator. Let's understand the process.  
Materials: A fresh lemon, a bowl, and a soft cloth.
Squeeze lemon: Cut the lemon, squeeze the juice into the bowl.
Apply: Dip the cloth in the juice, apply on the rust stains.
Wait: Leave it for 15-30 minutes allowing the citric acid to work.
Wipe off: Wipe the juice with a clean, wet cloth. Rust stains should start to disappear.
Repeat: If rust stains remain, repeat the process.
Does Rust on a White Refrigerator Door Indicate a Larger Problem?
Having rust on your white refrigerator door doesn't necessarily mean there's a larger problem. It's often due to minor surface damage or prolonged exposure to moisture. However, it's important to treat it quickly to prevent further damage and maintain the aesthetics of your fridge.
Conclusion
In conclusion, removing rust from your white refrigerator door doesn't have to be a daunting task. With simple items found around the house, like baking soda, vinegar, or a mild detergent, you can restore your refrigerator to its former glory.
The key is to catch the rust early, and address it promptly to prevent further damage. Regular cleaning and maintenance can help prevent rust in the first place. However, if a rust problem persists, it might be time to consider professional help or even a replacement.
Remember, a clean, rust-free refrigerator not only looks good, but it also promotes overall health and hygiene in your kitchen. Happy cleaning!