Refrigerator prices vary from $100 to $12,000 depending on size, brand, and features. Luxury options with premium features like an icemaker or air purifiers can cost up to $24,000.
Buying a refrigerator is a significant investment since it is one of those appliances you'll use for years before replacing. So, when you are purchasing a new fridge for your home or apartment you might be wondering "How much does a Refrigerator cost?". This article will discuss many factors that you will need to consider when purchasing a refrigerator; one such factor is the cost.
By knowing the average cost of a refrigerator, you will better understand what features to look for in different price ranges. This way, you can get a better bang for your buck and maximize the number of features you get. To help you understand what to expect when shopping for a refrigerator, we've compiled a list of the average prices for different types and price ranges.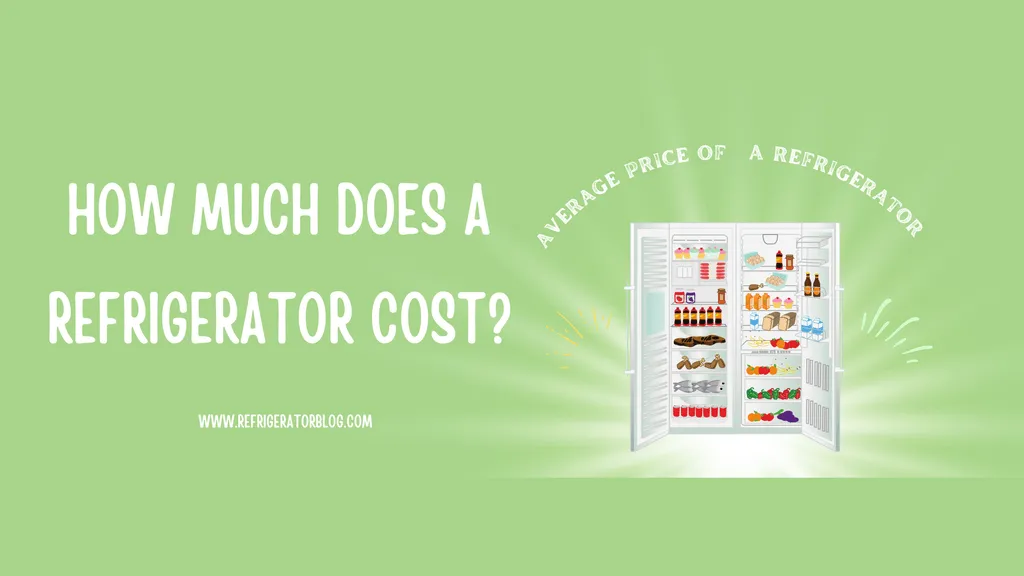 What Are the Common Refrigerator Types?
The refrigerator is a common household appliance. How much does a refrigerator cost depends on the type. There are many different types of refrigerators available on the market, each with its own unique features and benefits. To help you pick the right refrigerator type for your home, here's a breakdown of the most common refrigerator types:
Mini (Compact) Refrigerators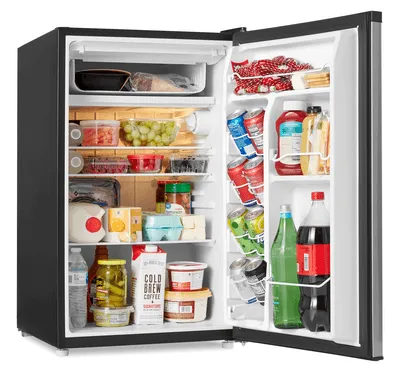 Compact refrigerators, as their name suggests, are very compact. This makes them an excellent choice for smaller homes and apartments. This refrigerator type usually offers much less storage space than a normal-sized option because of its compact size.
Mini fridges are available in many different sizes, ranging from 0.25 cu.ft up to 5.9 cubic feet. The average cost of a mini fridge is $150 but the price ranges can vary between $70 to $699. Usually, compact refrigerators have one or two shelves for food storage and some extra door storage. 
Top/Bottom Freezer Refrigerators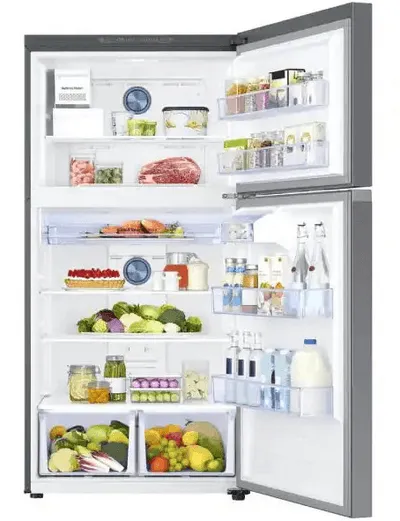 Top/Bottom freezer refrigerators feature a refrigerator and a freezer compartment to provide ample storage space. The freezer is usually located above the refrigerator, but the opposite is true for bottom freezer refrigerators. However, this type is still only ideal for smaller families since other options like French door refrigerators offer more storage space.
The average cost of top-freezer or bottom-freezer refrigerators vary between $500 – $1,000 depending on size and storage capacity. This fridge type is very commonly used since it tends to be cheaper and provides a good bang for the buck.
French Door Refrigerators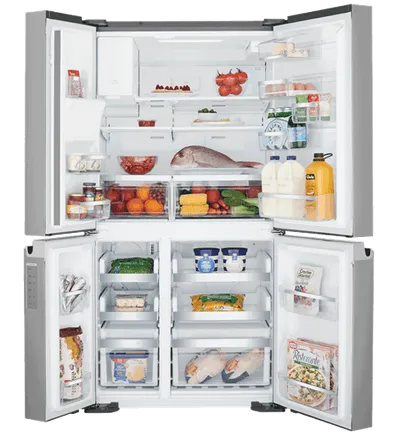 French door refrigerators are ideal for a larger family since they provide much more storage space. This type of refrigerator features a more pantry-style design with two doors for accessing the inside area. The inside area usually consists of refrigerator compartments and a freezer drawer. French door refrigerators typically offer more features than a top freezer refrigerator and their average pricing typically falls into the $2,000 – $4,000 range.
Side-by-side Refrigerators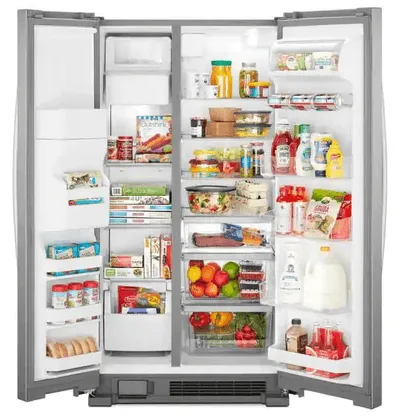 Side-by-side refrigerators are another higher-end option that offers a lot of storage space. This refrigerator type tends to have a larger freezer compartment size than the other types. It also boasts a two-doors design with a freezer on one side and a refrigerator on the other.
You also get a bunch of shelves in each compartment, thanks to the larger size of side-by-side refrigerators. Fun fact – side-by-side fridges are typically cheaper than most French Door models and can cost anywhere between $750 to $2999 on average.
How Much Does a Refrigerator Cost? Average Price
Refrigerators can vary drastically in price, with some models being much more expensive than others. Let's take a look at what features and fridge types you should expect to get in different price ranges so you can get a great deal: 
| Type of Refrigerator | Average Price |
| --- | --- |
| Mini (Compact) | $100 – $400 |
| Top-Freezer | $350 – $1,200 |
| Bottom-Freezer | $800 – $1,800 |
| Side-by-Side | $1,000 – $3,000 |
| French-Door | $1,200 – $4,000+ |
Refrigerators Under $100
Finding refrigerators under $100 can be tough, but there are options, particularly compact or mini-fridges. They're great for small spaces like dorms, offices, or garages. 
When shopping for a budget refrigerator, remember they won't have the size or advanced features of more expensive models. However, they can effectively meet specific needs.
Refrigerators Under $1000
A compact refrigerator should be your first pick if you are short on cash. Compact refrigerators usually only cost between $150 to $250. If you want more storage, then most top-freezer refrigerators can also be bought for under $1000. You may even be able to get a french door refrigerator in this price range if you are lucky enough to score one on sale.
Refrigerators Between $1000 and $1500
You can easily find a high-end top freezer refrigerator in a price range of $1000 to $1500. You can also find a good quality side-by-side refrigerator for under $1500 with all the essential features. You should expect to get ample storage space and an internal climate control feature in your new refrigerator for this price. 
Refrigerators Between $1500 and $3000
Now we are coming to the premium options. By going over the $1500 mark, you can expect to get many modern features such as a touch-screen and see-through doors depending on the product you choose. The refrigerator types you will come across the most in this price range are French Door refrigerators and side-by-side refrigerators. 
Refrigerators Over 3000$
If you want to give yourself a treat, you should go for a high-end refrigerator from a premium brand such as Sub-Zero or Thermador, which will cost you over $3000. This high price tag means that you get a lot of features, such as climate control and ice or water dispensers. Most premium refrigerators can also be customized in terms of appearance and functionality to best fit your preferences. 
Difference Between Inverter and Non-Inverter Refrigerator Prices
Generally speaking, an inverter refrigerator would cost you more than a standard one. This is because an inverter fridge, unlike a non-inverter model, can vary its speed of operations, depending on the amount of load inside and the temperatures outside. By utilizing minimum amounts of energy to keep itself optimally cool, an inverter refrigerator would help you save money in the future.
An inverter refrigerator is a more expensive model that runs off of electricity instead of gas. They usually have a more extended warranty and are more energy-efficient than a regular refrigerator. Non-inverter refrigerators use gas to run, and they are cheaper than inverters.
Do More Expensive Fridges Last Longer?
The belief 'you get what you pay for' is common when buying a fridge. Many believe costly fridges last longer. While premium models could last many years, even affordable fridges under $1000 can also last with proper care. Here are tips to maximize the use of your appliance.
Tip #1: Clean the back unit, external surface and interior space of your fridge at least once every three months.
Tip #3: Never put hot steaming meals into the fridge and avoid unnecessarily opening the fridge door frequently.
How Warranty Influences Refrigerator Prices?
Considering the warranty is vital when buying a refrigerator. It's a manufacturer's promise to fix or replace the product within a certain time if problems arise. Understanding the warranty's terms can affect the refrigerator's price significantly.
A fridge with an extended, all-inclusive warranty may cost more than one with a basic one-year warranty due to potential repair or replacement costs. 
Review the warranty terms before buying. The aim is to cover repair or replacement costs for any problems without extra charges.
Should You Opt for a Used or Refurbished Refrigerator?
Choosing between a used or refurbished refrigerator depends on your budget and preferences.
Used Refrigerators 
A used refrigerator was already owned and utilized. Despite being less costly than new ones, they may carry risks. 
Pros: Used refrigerators are cheaper, attractive for those on a budget.
Cons: Used refrigerators may have unseen problems leading to expensive fixes. They lack warranty, so you bear breakdown costs.
Refurbished Refrigerators 
A refurbished refrigerator is a used model professionally inspected and repaired to full functionality.
Pros: Refurbished fridges are cheaper than new ones and usually have a limited warranty, providing buyers with security.
Cons: Refurbished appliances might still have unaddressed problems or show signs of use like scratches or dents.
Choosing between a used or refurbished fridge depends on your budget and risk comfort. Ensure to research and inspect the appliance before buying.
Frequently Asked Questions
How Long Does a Fridge Last?
Fridges usually last 1 to 5 years. Their lifespan depends on usage and cleanliness. With good care and maintenance, they can last 10-15 years. Read More Here –
How Long Does a Refrigerator Last?
What Type of Refrigerator Is Cheapest?
Want a cheap, energy-saving fridge? Consider a single-door without a freezer. If budget is tight, opt for basic fridges without extras like icemakers, water dispensers, adjustable thermostats. Mini fridges could also be an option, priced between $100 and $250.
What Is a Good Price for a New Fridge?
A reasonable price for a new fridge can vary depending on the size, features, and brand. It is essential to compare prices and ensure you are getting the best deal.
Are There Any Government Rebates or Incentives for Buying Energy-Efficient Refrigerators?
Government incentives and rebates are available for buying energy-efficient refrigerators. They aim to promote energy conservation and lower greenhouse gas emissions. You can use this
Rebate Finder
for further details.
What Is the Best Time of Year to Buy a Refrigerator for the Lowest Price?
The ideal times to buy a refrigerator are late spring and fall, coinciding with new model releases and inventory clearance. Major sales during Memorial Day, Labor Day, Black Friday, and end-of-year holidays also provide substantial savings.
Are There Any Financing Options Available for Purchasing a Refrigerator?
Various financing plans are available for buying refrigerators. They let you pay over time, making the purchase easier. This is helpful considering refrigerators in 2023 cost between $600 to $3,000, depending on the model and features.
Read more about
Appliance Financing Options
here.
Final Thoughts
Refrigerators come in a wide variety of designs and with many different features. This makes it challenging to come up with a single average refrigerator cost. Similarly, the average cost to run a refrigerator also varies depending on brand, model, fridge size, design etc.
Refrigerator prices in 2023 fluctuate depending on type, brand, and features. Commonly, a regular refrigerator's price ranges from $600 to $800, but high-end ones may exceed $2,500. It's important to consider not only the initial cost but also the appliance's efficiency and durability over time. 
Before buying a refrigerator, do thorough research and compare prices to get the best value. Consider the necessary features, appropriate size, and energy efficiency. Take time to decide. Compare models and calculate all costs, not just the purchase price. The best refrigerator for you should balance price, features, and efficiency.