Have you ever pondered over a frosty beverage or while grabbing a late-night snack, "Who makes Kenmore refrigerators?" It's a question that has chilled many curious minds. But fret not, we've decided to defrost this icy mystery for you. 
For the uninitiated, Kenmore is a line of household appliances sold by Sears. The brand is known for its durability and consumer-friendly features; but who actually manufactures these cool machines might surprise you. 
Pull a chair, fetch a cold drink from your fridge—Kenmore, hopefully—and join us as we reveal the surprising truth behind who makes Kenmore refrigerators.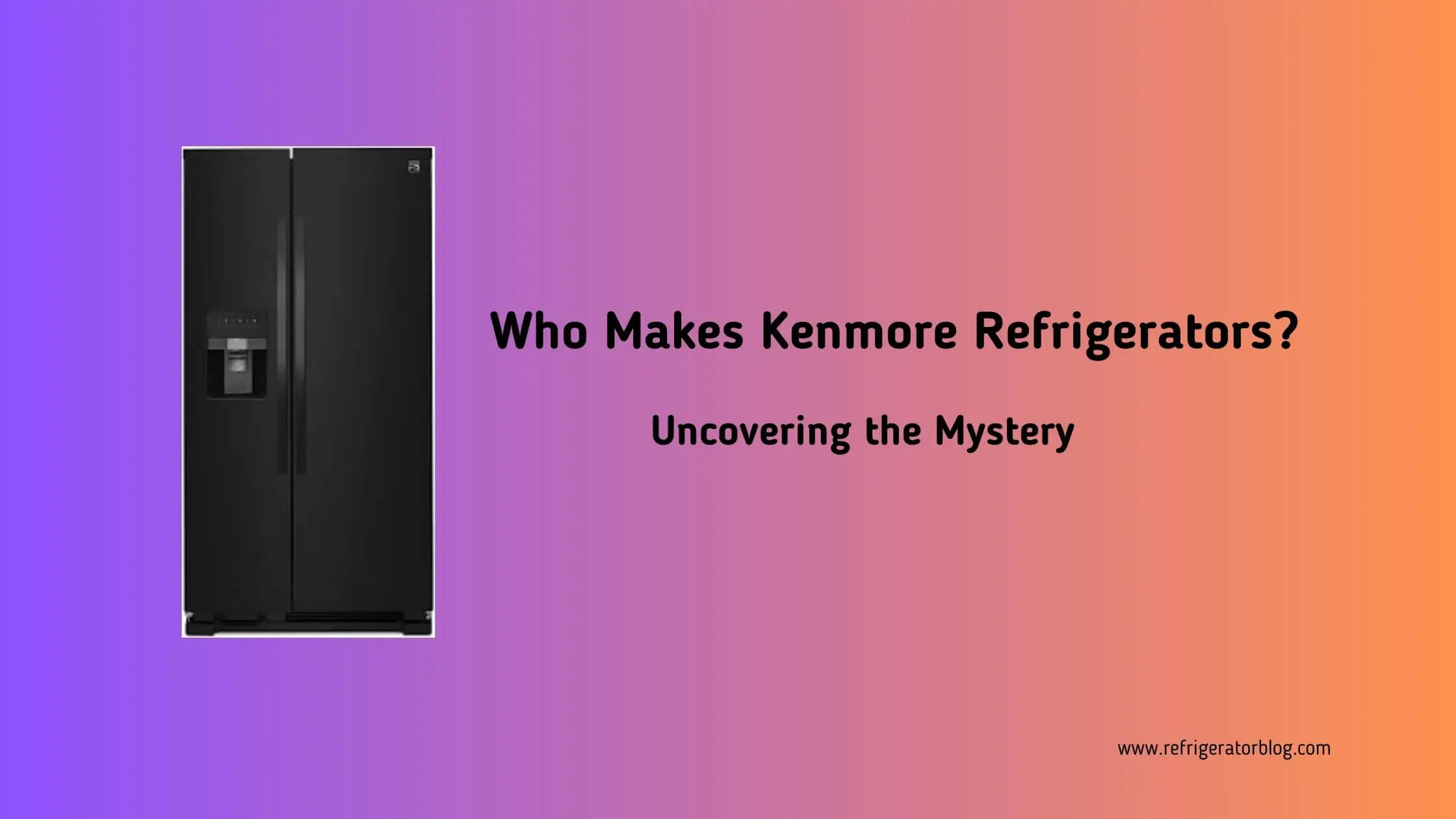 History of the Kenmore Brand and its Refrigerators
Explore the history of the Kenmore brand and its refrigerators. Established in 1913, Kenmore is a respected brand recognized for its dependable home appliances, particularly refrigerators. Despite its American-sounding name, Kenmore's refrigerator production involves international partnerships.
The Beginning of Kenmore: Kenmore began with sewing machines, introduced by Sears. They later expanded to various household appliances. The first Kenmore washing machine came in 1927 and the first refrigerator in 1929, reinforcing Kenmore's market presence.
Who Makes Kenmore Refrigerators?
The Kenmore brand is owned by Transformco, an evolution of Sears Holdings. However, Transformco doesn't manufacture the appliances. Instead, they define the specifications and outsource the manufacturing. 
Kenmore refrigerators are produced by a variety of manufacturers. These include Whirlpool, LG, Electrolux, Panasonic, Cleva North America, and Daewoo Electronics. Each manufacturer contributes its unique expertise to the Kenmore brand, guaranteeing high-quality appliances.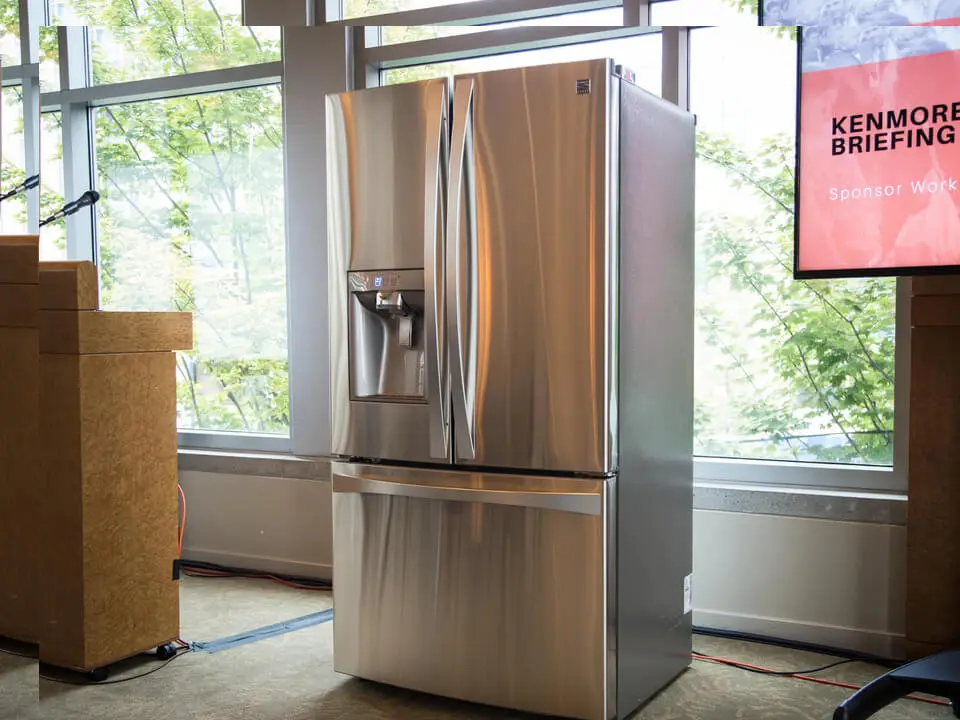 Kenmore collaborates internationally to produce a diverse range of refrigerators. Companies like the American-based Whirlpool and South Korea's LG Electronics have contributed significantly to Kenmore's product line.
The Top Manufacturers Behind Kenmore Refrigerators
Ever thought who makes Kenmore refrigerators? Kenmore, a well-known appliance brand, works with various big names in the industry to ensure quality. Let's uncover the main manufacturers behind your favorite Kenmore refrigerators.
Whirlpool Corporation: Whirlpool Corporation, a top appliance company worldwide, mainly manufactures Kenmore refrigerators. Known for innovative and long-lasting products, Whirlpool's skills and dedication enhance the performance and lifespan of various Kenmore refrigerator models.
LG Electronics: Another major manufacturer behind Kenmore refrigerators is LG Electronics, a South Korean multinational electronics company. Recognized for their cutting-edge technology and stylish designs, LG helps bring a modern touch to Kenmore's refrigerator lineup.
Electrolux: Electrolux, a Swedish multinational home appliance manufacturer, also has a hand in producing Kenmore refrigerators. With their advanced technology and user-friendly features, they enhance Kenmore's reputation for easy-to-use, high-quality appliances.
Frigidaire: Kenmore refrigerators are made by Frigidaire, a subsidiary of Electrolux, known for energy efficiency and environmental friendliness. In short, Kenmore partners with top manufacturers to offer a wide variety of refrigerators to meet different customer needs.
Quality of Kenmore Refrigerators
Are you curious about the quality of Kenmore refrigerators? Then, you're in the right place! Kenmore refrigerators are known for their high standards, great functionality, and durability. But let's take a closer look, shall we? 
Materials and Construction: Kenmore refrigerators are constructed from high-quality materials that ensure longevity and durability. The exteriors are typically made of stainless steel, which is resistant to rust and easy to clean. Inside, you'll find sturdy shelves made of glass or wired, providing excellent support for your food items. 
Performance and Features: Kenmore refrigerators excel in performance. They're energy-efficient and often Energy Star certified, benefiting your budget and the environment. Unique features like advanced cooling, adjustable shelves, and smart sensors distinguish Kenmore refrigerators from others.
Customer Reviews and Satisfaction
We know who makes Kenmore refrigerators. Now, let's look at customer reviews to understand their experiences. Feedback for Kenmore refrigerators is varied, but many users highlight their longevity and reliability, often lasting over a decade with few problems. 
"My Kenmore fridge is nearly 15 years old and still works well. I've had only one small issue in these years." – A User Review
Customers also like the features of Kenmore refrigerators, such as easy temperature controls, large designs, and energy efficiency. 
Smart Temperature Controls: Users like being able to change the temperature easily.
Spacious Design: Many customers like the large storage space.
Energy Efficiency: Many users say their energy bills have decreased after using a Kenmore refrigerator.
Some minor problems include occasional temperature changes and noise in some models. These issues seem to be rare. In general, customers are satisfied with Kenmore refrigerators because of their long life, user-friendly features, and energy efficiency.
Tips for Choosing the Perfect Kenmore Refrigerator for Your Needs
Looking for a Kenmore refrigerator? There's a lot to choose from, but we're here to help you make an informed decision. Here are some tips. 
Space: Measure your kitchen space before starting your search. Remember to account for door clearance and ensure the refrigerator will fit through your home's doors and hallways. 
Style: Kenmore offers a variety of styles, including French door, side-by-side, top freezer and bottom freezer models. Each has its own pros and cons.
Storage Needs:
Consider your
food storage habits
. Do you buy food in bulk or prefer fresh produce? Do you need more freezer or fridge space? This will guide the size and style of your fridge.
Energy Efficiency: Energy-efficient Kenmore refrigerators are good for the environment and your wallet. Look for models with an Energy Star rating as they conserve energy without sacrificing functionality or features. 
Extra Features: Consider any additional features you might want like an ice maker, water dispenser, adjustable shelves, or smart technology. These could increase the refrigerator's price, but may be worth the convenience.
Kenmore's Warranty : What You Need to Know
Delving into Kenmore's warranty, it's essential to understand what it entails for you as a user. Knowing the details of your warranty can provide you with peace of mind, allowing you to enjoy your Kenmore refrigerator to the fullest. 
Standard Warranty: Kenmore products like refrigerators usually have a one-year warranty from the purchase date. This warranty covers parts and labor costs for any manufacturing defects. Here's the warranty coverage: 
Parts: Free replacement for faulty parts within the warranty period.
Labor: Labor costs for repairs due to manufacturing defects are covered.
Extended Warranty: Kenmore offers an extended warranty, the Kenmore Protection Agreement, with added services: 
Extended warranty up to five years.
Annual refrigerator maintenance.
Replacement if more than four repairs are needed.
Reimbursement for food spoilage due to refrigerator failure.
Make sure to read the Kenmore Protection Agreement's terms and conditions as some exclusions may apply.In summary, Kenmore's warranties provide a safety net for your refrigerator purchase.
Frequently Asked Questions
Do you have questions about Kenmore refrigerators? This section provides all the answers. Prepare yourself for some interesting information about Kenmore refrigerators. 
What Is the Average Lifespan of a Kenmore Refrigerator?
A Kenmore refrigerator typically lasts 10 to 13 years, although some can even last up to 20 years. The lifespan of a Kenmore refrigerator can depend on the model, maintenance, and daily usage.
Can I Get Kenmore Refrigerator Parts Easily?
Kenmore refrigerator parts are easily accessible through various sources. Kenmore offers a wide range of components for all their refrigerator models. 
These parts, which come in all shapes and sizes, are available for all models. You can find anything from new shelves, water filters, to door handles. You can also order these parts online for added convenience.
Can I Repair My Kenmore Refrigerator Myself?
You can fix common refrigerator problems if you have some knowledge and patience. However, always prioritize safety when dealing with appliances. If unsure, it's better to hire a professional.