If you were looking up recommendations on the internet for cheap yet good-quality and sustainable refrigerators, you must have had come across the name 'Hisense' somewhere. Are you now curious to learn about the manufacturer of Hisense refrigerators and whether you should consider buying them?
Look no further! This blog post will explore the origins of Hisense appliances – where are they made, focusing specifically on their refrigerators. As passionate home cooks and kitchen gadget enthusiasts, we have had numerous experiences with various refrigerator brands. Join me as we journey to uncover the truth behind Hisense refrigerators.
Who Makes Hisense Refrigerators? Hisense Appliances Manufacturer
So, who is the mastermind who makes Hisense appliances? The answer might surprise you. Hisense appliances are actually made by Hisense Group, a Chinese multinational company. They have a rich history spanning several decades and are known for their commitment to innovation and quality. Despite not being American-made, Hisense refrigerators have gained popularity worldwide.
Hisense is a global electronics and appliance manufacturer founded in 1969 in China. Initially, the company focused on radios and televisions. However, with their unwavering commitment to innovation and customer satisfaction, Hisense soon expanded into household appliances – such as, air conditioners, mobile phones, washing machines and similar electronic products, including the creation of their renowned refrigerators. Hisense Kelon Electrical Holdings Ltd first started manufacturing Hisense refrigerators in 1984 and later on Hisense Group acquired the company.
Where Are Hisense Refrigerators Manufactured? The Global Manufacturing Network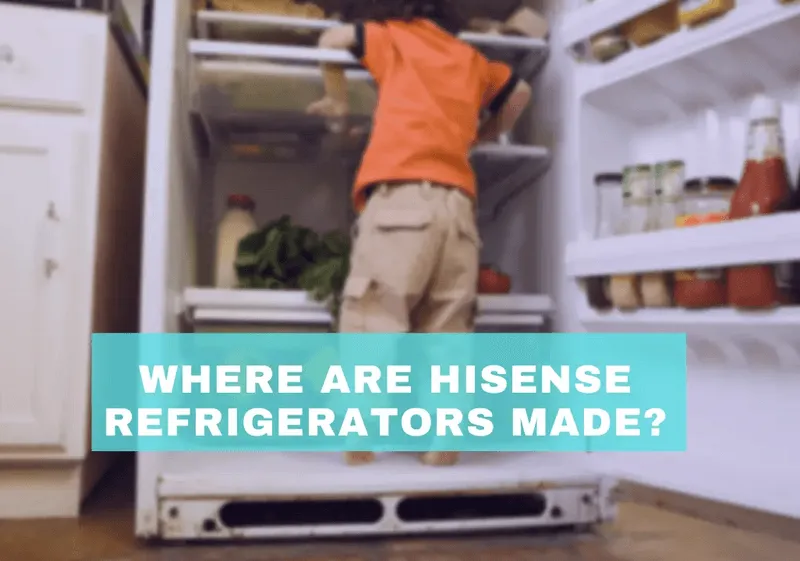 Well, the production of Hisense appliances is not limited to a single location. The company has established manufacturing facilities across the globe, strategically located to meet the demands of different markets. These facilities utilize advanced manufacturing processes and cutting-edge technology to ensure the highest quality standards. Here are some key locations where Hisense has significant manufacturing operations. 
Qingdao, China: Hisense's headquarters is in Qingdao, Shandong Province, China. They likely have significant manufacturing operations in this area.
Huzhou, China: Hisense has a large manufacturing base in Huzhou, Zhejiang Province, China. Those companies in China produce a wide range of appliances and electronics.
Johannesburg, South Africa: Hisense operates a manufacturing plant in Johannesburg, South Africa. This facility serves as a hub for their operations in Africa.
Mexico: Hisense has established manufacturing facilities in Mexico, which cater to the North and Central American markets.
Europe: Hisense has expanded its manufacturing operations in Europe and has facilities in countries such as Hungary, France, and the Czech Republic.
Are Hisense Refrigerators Made in the USA? Consumer Awareness
While Hisense has R&D facilities in the USA, refrigerators sold in the country are not manufactured locally. It's important to note that Hisense refrigerators available in the USA are produced in their international manufacturing plants.
Now that we understand Hisense refrigerators' production let's focus on transparency and consumer awareness. As consumers, we must have accurate and reliable information about the products we buy. Hisense, a trusted brand, strives to provide transparency and clarity to its customers regarding the origin of their appliances.
Hisense Reliability, Brand Reputation and Lifespan
Are Hisense fridges reliable? Is a Hisense fridge good or bad? Is a Hisense refrigerator reliable? How long do Hisense refrigerators last? These are common questions that often arise when considering buying a Hisense refrigerator. 
Based on our experience and the brand's reputation, I can confidently say yes! Hisense refrigerators offer reliability, durability, and some cool, intelligent features. Plus, they have a lifespan that rivals other top brands. Whether you're storing fresh veggies, chilled beverages, or your favorite ice cream, Hisense has got you covered.
If you're looking for a trustworthy brand that offers value for your money, Hisense is definitely worth considering. 
Another concern many people have is the lifespan of Hisense refrigerators. While individual experiences may vary, the average lifespan of a Hisense refrigerator is around 10 to 15 years, provided it is well-maintained. Regular cleaning and proper usage can significantly contribute to prolonging its lifespan.
Best Features of Hisense Refrigerators
Hisense refrigerators are available in the market in many different types, shapes and forms, the common ones you can expect to find are:
Single-Door Fridge
Top Mount Fridges
Bottom Mount Fridges
French Door Fridges
Side By Side Refrigerator
Double-Door Fridge
Wine / Bar Fridges
Most of these refrigerators come with excellent features that we're going to highlight to give you a better insight on these best-selling refrigerators : 
Height-adjustable Shelves – For Flexible and Organized Storage.
Premium Flat Door Design – Adds Modern Appeal With a Classy Outlook.
Metal-Glide Drawers – For Preserving Fresh Fruits and Veggies.
Adjustable Thermostat – Offers Wide Range of Temperature Settings For Optimum Cooling Efficiency.
Antibacterial Liner – Keeps The Inside of Fridge Bacteria-free.
Ice and Water Dispenser – Can Produce up to 2 Liters of Ice Per Day.
'My Fresh Choice' – A Special Compartment For Bonus Space With Longer Temperature Span.
Durable Inverter – Makes The Refrigerator a Long-term Sustainable and Product. 
Micro Vents Technology – Keeps Your Fridge Interior Free From Bad Odor and Horrid Smell.
Please note that all of these stunning features may not be available in every single Hisense fridge model.
Should You Buy Hisense Refrigerator for Your Home?
After examining countless of customer reviews and ratings, we can finally say that if you're on a tight budget but still would like to get a premium-looking full-sized refrigerator for your elegant kitchen, you can easily rely on Hisense refrigerators. 
Most top-rank refrigerators offer only about 12-month to 24-month warranty, however, Hisense fridges have a warranty of 2-5 years depending on the specific model – which gives us a sense of security and reason to trust the brand. Ranging from $400 – $1500, Hisense refrigerators come at very competitive prices. Overall we believe they are good value for money and worth paying for. 
However, just a heads up – most Hisense refrigerators have a 3-star or 4-star energy rating compared to some of the top models of LG, Samsung or Whirlpool that have an energy star rank of 5. Therefore, if compared to those exclusive refrigerators, Hisense fridges won't be a very cost-effective decision if your main priority is saving money on monthly electric bills. 
Otherwise, Hisense is a trusted brand for refrigerators and its top-selling models such as the French Door HRF266N6CSE or the HRB171N6ASE Bottom-freezer refrigerator can be a great addition to your home sweet home given it's long lifespan guarantee and high-end cooling capability. 
Wrapping Up
Now you finally know who makes Hisense refrigerators and will be able to draw a conclusion whether you should consider buying them based on our overview. The answer is quite simple – if you're not too nit-picky about the slightly-lower energy efficiency problem but rather appreciate affordability and good-quality, then Hisense refrigerators are bound to impress you. 
Frequently Asked Questions
No, Hisense Group is a Chinese multinational electronics brand  headquartered in Qingdao, Shandong Province in China. But their wide range of collections are available for purchase for the folks in USA although they are manufactured internationally.
Are Hisense Refrigerators Long-Lasting?
Based on our exclusive analysis, Hisense refrigerators will last for 5-10 years in general but with regular maintenance, servicing and care, you can make them last ever longer for up to 20-25 years. 
Is Haier and Hisense The Same?
No, apparently they are not. Although both brands are owned by Chinese companies, both are well-reputed for their refrigerator collections and of course both begin with the letter 'H' – no, they're still not the same.