If you're planning to decorate your home with a magnificent royal outlook inside that will turn your neighbors green with envy, a Sub Zero refrigerator might just be the thing you need! Although these are about three-four times more expensive than a typical refrigerator, they are still totally worth the investment. 
Why? Because Sub Zero refrigerators don't only act as a tool for storing your food and drinks, when you buy a Sub Zero you're basically investing in a lifelong environment-friendly lifestyle that promotes reducing energy usage and minimal food waste, not to mention these have a longer lifespan that will reach up to at least 20 years. 
Now, diving into the main question- exactly how much does a Sub-Zero refrigerator cost? Would you have to sell one of your kidneys to be able to purchase one of these luxury-quality refrigerators? Well, we are here to make the calculations easy for you so make sure you read till the end.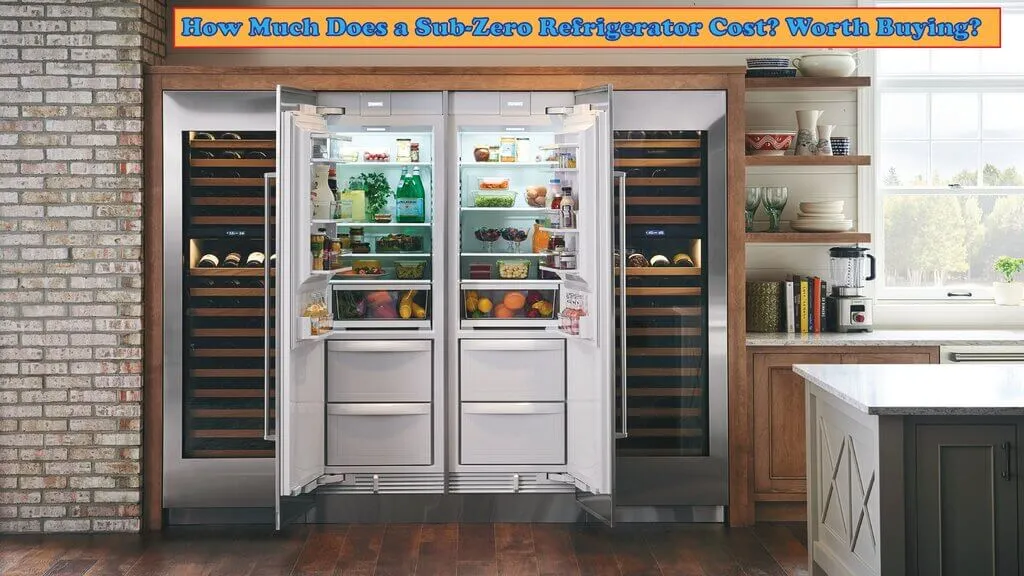 Types of Sub-Zero Refrigerators
Sub Zero models are available in a lot of different shapes, sizes and styles. Some of the common models available in the market are: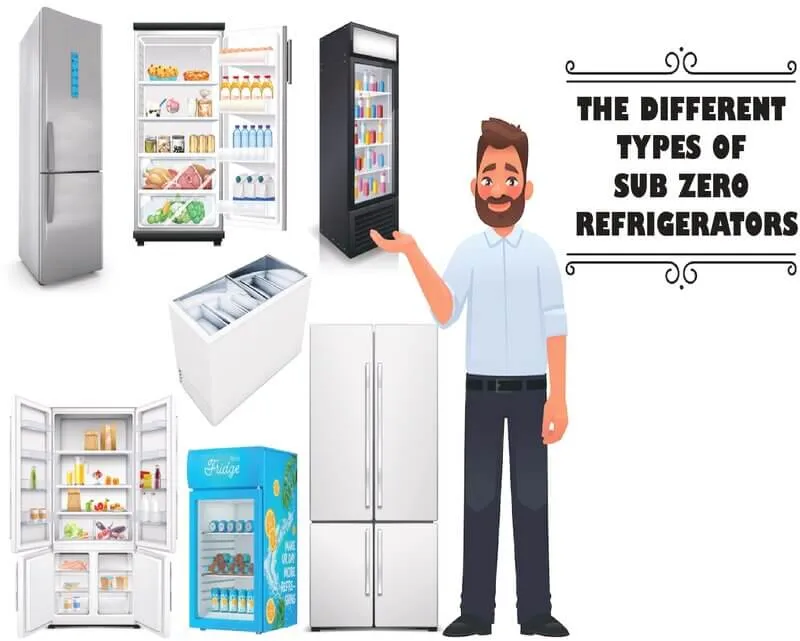 Side By Side Fridges
French Door Refrigerators
Wine Fridges
Counter Depth Refrigerators
Undercount Refrigerators
Top-Freezer Refrigerators
Bottom-Freezer Fridges
Quad Door Refrigerators
Sub Zero Refrigerator Prices in 2023
If you have checked out some of the Sub-Zero refrigerator models on E-bay or elsewhere, you may have realized by now they are indeed hella expensive and the prices vary depending on the size, model, capacity, and configuration. Moreover, different features diversify the prices as well. For instance, a Sub Zero fridge with antimicrobial air purifiers or built-in ice makers will definitely cost more than a fridge that lacks these.
Because Sub Zero fridges come in a myriad of different styles, it's always better to visit their showroom or consult a Sub Zero retailer to get a rough idea of the running prices in your local area. We have viewed some of the globally popular online retailers and this is what we have observed in a nutshell:
Average Starting Prices
The prices of Sub Zero Bottom Freezer refrigerators start at a minimum of $8420 whereas Zero Column refrigerators retail at $6000 or more. Similarly, the pricing of side-by-side Sub Zero Refrigerators start at $8,500 and if you fancy a refrigerator with a French door instead, you'll need to spend a minimum of $9000.
Nevertheless, if you're on a tight budget, you can also check out Sub Zero Undercounter refrigerators that have a starting price of only $4,229. However, if you have a big household exceeding 10 members and also have the means, we would totally recommend you their biggest 48-inch refrigerators with stunning features. (You'll find a whole detailed section on this coming up ahead so keep scrolling)
How Much Does a 24-inch Sub Zero Refrigerator Cost? 
The stunning 24-inch-wide Smart Column Refrigerator has been a great hit amongst small-household consumers not only because of its premium stainless steel finish and bottom freezer style but its slim build that allows it to fit into the most confined of spaces yet operate perfectly. 
With an overall capacity of 11 cubic feet, it comes in two different styles: Model IC24 CIRH which features a right hinge door and Model IC24CILH which has a left hinge door. All of these models are nano-coated with a digital temperature control, also include air purifiers and a built-in ice maker. Currently this retails for $6416. 
Moving on, let's introduce you to the 24-inch Sub Zero Undercounter refrigerator with an on-door shelf which is a great option if you're trying to save money. In case you want to look it up, the model number is DEU2450CI. Not only does it have an ice maker, but also has WIFI-enabled features through which you can access the temperature control panel and regulate the LED lights. This masterpiece retails only for $3245 and we believe is totally worth every penny.
How Much Does a 36″ Sub Zero Refrigerator Cost?
The BI-36UG is a 36-inch Sub-Zero side-by-side refrigerator that also includes a freezer and ice making compartment, retailing globally at the price of about $9100 – $10,285. In a short period of time, this has climbed up the ranks because of its value for money. 
If you thought that was their only fan-favorite model, you're so wrong. It's time to introduce you to the Sub Zero BI36UFDO Model which is a 36″ appliance with an integrated non-reversible French door. Although this fridge doesn't have wine racks or undercounter, it has surely got some cool cabinets, a freezer drawer and adjustable shelves.
You will be fascinated to know that this model is Star K certified and is likely to use 571 kWh of energy per year. This refrigerator also has a high capacity of 21 Cu. Ft and is currently retailed at $8570- $10,066. 
Lastly, the final model we would like to highlight is the 36″ wide ID-36RP Sub Zero Undercounter refrigerator. If you're looking for a small fridge with a cabinetry feel for a cramped kitchen or suite, or simply to keep drinks chilled in a home theatre, this is definitely an ideal choice. With spacious storage drawers, removable shelves, LED lighting and a total capacity of 6.6 cu. ft, this retails for a price of $3900-$4800 depending on your customized features. 
How Much Does a 48″ Sub Zero Refrigerator Cost? 
If you're looking for an elite model of refrigerator that will glamorize your stylish kitchen, the Sub Zero Pro 48″ refrigerator is here to make your day. From dual fridge compressors and adjustable glass shelves to an automatic ice maker, microprocessor, bottom freezer, crisper drawers, steel bins and touch control panel including digital temperature control, this has got it all. From what we have researched, this is currently being retailed at $15,970. 
Also check out their BI-48S Side by Side Refrigerator and Freezer combo which retails for $8500 – $10,615. Similar to the previous one, this also has framed panels, LED touch control, 5 door shelves and drawers, glass racks, an automatic ice maker and water filters. With an overall capacity of 9.5 cubic feet, this appliance has a dual refrigeration feature that is supported by two compressors, no wonder this will make a wonderful addition to your home sweet home.
Last but not least, our list would be incomplete without the Sub-Zero 48″ Classic French Door Refrigerator (CL4850UFD/S) that has got us charmed with its classy vibes. With a total capacity of 28.9 cu. ft. and a height of 84″, this full size refrigerator includes an ice maker, a single freezer drawer and is also Star K certified. Furthermore, you will find 7 shelves in total with 8 door bins and 1 drawer divider. Although this refrigerator features digital temp control with LED illumination, it lacks a water dispenser and has no wine racks or undercounter. You are likely to find this Sub Zero refrigerator model at a retail price of $14,709 – $16,890.
Are Sub-Zero Refrigerators Worth Buying?
Sub-Zero Group is a well-reputed brand today that has been serving its customers with top-quality, sustainable and durable products since 1945. After speaking to hundreds of satisfied customers of sub-zero fridges and hearing their feedbacks, it is safe to conclude that these refrigerators are worth the price and worth investing on. In short, what we realized from their feedback is that, these people are content with their purchase because of these certain advantages and key features that Sub-zero refrigerators possess that make the appliances super efficient and convenient to operate. Here's a brief overview for you:
Advantage #1: Optimal Humidity Levels

The high-humidity crisper drawer is a monument to food preservation, where you can store your fruits and vegetables and keep food fresher longer. In this compartment, you'll never have to be afraid of getting freezer burn.
Advantage #2: Antimicrobial Air Purification System

To enhance Sub Zero's advanced food preservation technology, the manufacturers have also included a high-end air purification system and water filtration system to preserve your perishables and prevent them from spoiling quickly and release bad odor as they lower the chances of bacterial growth.
Advantage #3: Dual Refrigeration System
All full-size sub-zero refrigerators are designed with
dual refrigeration system
that prevents constant temperature fluctuations inside and work to retain cold air as much as possible.
Advantage #4: Magnetic Door Seal

The advanced door seal system reduces the chances of moisture building up inside because of moist air sneaking in, which in turn helps to keep your food fresher longer.
Advantage #5: Premium Build & Design

Sub-zero refrigerator offers infinite paneling options, have adjustable drawer dividers, wine storage units, a sturdy glass door, multiple glass door shelves and so much more – all of which are constructed with best quality materials. 
Final Thoughts
Every homeowner dreams of a high-end kitchen that will make their neighbors burn with envy. A sub-zero refrigerator is just the right thing for doing so and is absolutely worth the price tag.
A quick recap of what we've discussed so far – the cost of a sub zero refrigerator depends on a variety of factors such as size, style and capacity, including your personal customizations. Our best suggestion for you would be to visit the official website of Sub Zero, put in your location and check out the latest prices and see which models are available in your area for grab, you can also check out different refrigerator showrooms and retailing houses in your area to get an overall idea on how much does a Sub Zero refrigerator cost.
Frequently Asked Questions
Why Are Sub-Zero refrigerators So Expensive?
Sub Zero refrigerator prices begin to make sense when you take into account the high-quality components, thoughtful design elements intended to keep your food fresh, clean, and healthy, and the nearly limitless customizability of these refrigerators.
Is Sub Zero Fridge Worth it?
If you can afford the hefty price tag, then be assured your money won't go in vain if you intend to invest in these long-lasting supreme quality refrigerators, designed to glamorize your plain simple kitchen to your dream iconic kitchen.
Is Sub Zero Made in China?
No, Sub Zero is a privately-owned American Company that manufactures luxury kitchen appliances.